Tony Brough – General Surgery Testimonial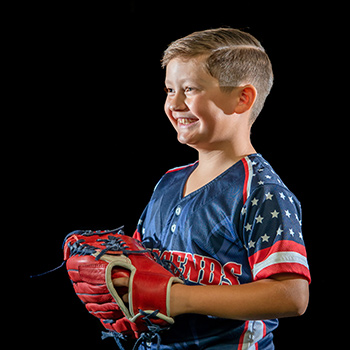 Tony Brough
…and it's GONE!
Tony is used to swinging for the fences. A stout, bright little leaguer, he was rolling toward his 8th birthday when his parents noticed him limping. His coach noticed he was not his normal, speedy self around the bases.
One day after a game, tough little Tony fell to the ground crying in pain. That night, his parents rushed him to urgent care where they discovered a large growth on his right tibia (shin bone). It was benign! but continued to grow in spite of treatments. A rare opportunity to play baseball at the All-American Games was fast approaching, and yet Tony was struggling with nagging leg pain. Everyone decided enough was enough; it was time to try something different for "Tony the Tiger"!
The expert physicians at El Paso Children's Hospital scheduled Tony for an operation, on a mission to remove the tumor from his right leg. They understood the importance of getting this athlete ready for his competition in Round Rock, with a chance to play in the Little League World Series! With the highest expertise available to all patients and the child-focused hospitality given to all families, the medical staff at El Paso Children's Hospital surrounded Tony's parents with compassion, information, and care.
Thanks to El Paso Children's Hospital, Tony came out of surgery with a recovered leg, regained confidence, and the will to always play hard!